Since our opening day back in 2015, Rattachai has been providing an inspiring and welcoming space to learn Muay Thai! Whether you are new to Muay Thai, or are looking to take your training to the next level, our experienced team of coaches can help.
Rattachai Muay Thai was opened at the start of 2015 by Kru Nai and his wife, Nit. Kru Nai, otherwise known as Rattanachai Wor. Valapol, is a 3x lumpinee stadium champion and winner of an M100 tournament. Prior to opening his own gym, Nai spent 7 years working as a trainer at a local gym located only just a couple minutes away from Rattachai.
Nai and his family made headlines at the end of 2010 when his 7 month old daughter, Tuptim, needed a liver transplant in order to have any chance at survival. The $50,000 dollars needed for the operation was well beyond what the family could afford. Nai's students, coworkers and peers started doing everything they could to raise money and awareness for the cause.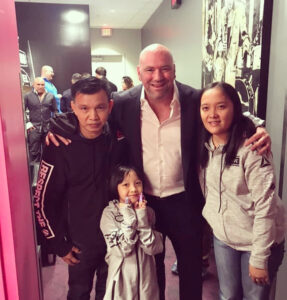 In a brilliant act of desperation, one of Nai's former students, Ben Pittsley, posted a thread in the "UG" (a popular mixed martial arts discussion forum), calling on UFC president Dana White to pay for the surgery. He did! In his own words.
On weekends I never get on a computer because I'm hanging with my kids. But one Saturday and I remember like it was yesterday, I walked by my computer at home and something just pulled me to it, and I know this sounds fucking weird and I'm not religious, but I got on the UG that day.

Ben talked to me that day in that post in a way that I communicate. He basically said, "Dana, a little girl is going to die in four weeks if she doesn't have $50,000 for this surgery and you should pay for it." I read that thing and it was like a punch right in the face and I said you know what "He's right, I should fuckin' do this." And it was two of the greatest decisions I have ever made in my life. 1. To get on the computer that day. 2. To pay for that surgery. One of the greatest things that has ever happened to me!
Because of Dana White's act of generosity, as well as Ben's determination to raise the money, Tuptim is in good health and can be found roaming around the gym with a big smile on her face.
Kru
Nai
Kru Nai Rattanachai is a 3 time Lumpinee Stadium Champion, and has been operating Rattachai Muay Thai gym since 2015.